Roza Shorsh Ali's (the top GPA university student) Speech.
Posted by

Categories

News

Date

2016-01-20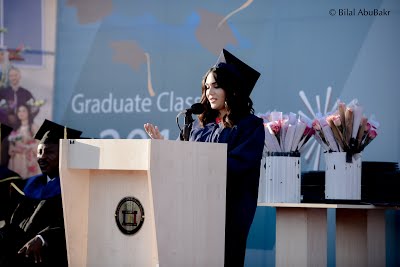 "Dears, families, guests, lecturers, staff, students, and graduating class of 2017, welcome to the first graduation ceremony of Komar University.
It is my distinct pleasure and honor to be standing here addressing you all today. Before I begin, I want to acknowledge our brave peshmarga's, and not just them, but their families and every Kurd for the strength and patriotism that we continue to show regardless of what is being thrown our way. I hope that each one of us look up to and learn from the peshargma's selflessness, persistence, and courage. And we do not allow the suffering, hard work, and lives lost over the past few years to go to waste.
One of our wisest teachers at the end of each semester would tell us business students, "The only thing distinguishing the students from the teachers are these 4 walls, where you have to sit and learn, and I have to stand and teach. And I'm know outside of these 4 walls I would be the one learning from you." University graduation is one of the major milestones of our lives and we could not have achieved this goal without the efforts and support from our loyal lecturers, university staff, and our families, for without them none of us would be here today, wearing these gowns, and receiving our diplomas. I want to give a special thanks to our families, who tried hard despite every struggle, and have supported us till this day, and for loving us unconditionally.
A University degree is a wonderful tool in this world, one that opens many doors of opportunity. With everything that is going on in Kurdistan now and has been going on for the past few years, it may difficult to look forward to the future and be optimistic, but let us all take this personal success as an example of how anything is truly possible when we put our minds to it.
In the words of Kofi Annan, "Knowledge is power. Information is liberating. Education is the premise of progress, in every society, in every family."
Let us all continue progressing in our lives knowing that we have achieved great heights and are equipped with the necessary tools to tackle what lies ahead. The road that lies ahead won't be easy but nothing worthwhile really is. Our current situation doesn't mean we give up on ourselves but rather that we should keep pushing. At a time where our country is experiencing immense loss and tragedy, it is even more important for us as the next generation to continue with our education so that one day we will be able to become a leading force in this country and propel into something greater, and let us also acknowledge, that all of us graduates have enormous potential to contribute to taking mankind forward. Each and every one of you have greatness in you. Do not let the circumstances that we have endured define you or your future.
I know it is exciting to leave behind the emotional rollercoaster and torture of studying for exams and stressing over grades, and of course every student's favourite, registration day: one of the most dreadful procedures. And because we were the first groups of students to attend this university, naturally we were subjected to all of their shortcomings.
Having come through many obstacles that university has thrown our way, we may think that we have reached our capacity to meet challenges. Yet, we can always be reminded by looking up and digging deep in the most testing circumstances, that our capacity to rise to a challenge is limitless. We are young, full of talent, and determined: it is our time to shine.
As we leave Komar University and begin the next phase of our lives I hope that we can leave behind any bad memories that we may have and cherish all the good that came out of our time here and that we all take away not just academic excellence and real world skills, but many treasured memories, experiences, and friendships. May we remember that our knowledge is useless unless we do good that we know and know that though we have worked hard and done well, our best work still lies ahead.
Graduation should not be an end goal in itself, this step gives each of us new opportunities to continue evolving and to learn new skills that we will carry with us for the rest of our lives. And all accomplishments we achieve during this journey of life should be taken as starting points for further achievements.
I want to say the sky is the limit, but we have landed on the moon and there is talk of living on Mars, so no, even the sky isn't the limit. Our time as students was never solely for academia or achievement, but also to find ourselves. As the great Martin Luther King once stated: "The function of education is to teach one to think intensively and to think critically. Intelligence plus character – that is the goal of true education".
Dear guests, once again I give you my warmest welcomes, and to the graduates of 2017, you are the FIRST graduates of Komar University and in future years ours will be the shoulders that future graduates stand upon, congratulations and best of luck to you all. Thank you."